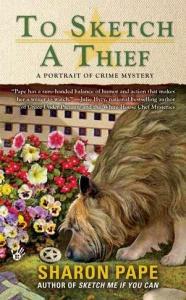 Title: To Sketch a Thief by Sharon Pape
Scored a: B+
Status: Finished!
I was just trying to download my kindle library onto my new ipad when I got sick of babysitting the little bars and I clicked on a book at random. Later I surfaced, having read the entirety of To Sketch a Thief.
It's the sequel to 'Sketch Me If You Can' and the adventures of Rory, no longer a sketch artist but a PI, and her ghost Zeke.
In this one we delve more into why Zeke's dead (not just being killed, there's details), and a new character is added to the cast: Hobo the Dog. Seen on the cover. Hobo is a nice dog. I like Hobo.
Plot: Rory finds an errant dog and takes him home. Unfortunately his owner's been murdered, and her other dog, a show-quality maltese, is also missing. Rory is hired by the woman's friend not to solve the murder (that's police business now) but to crack a dognapping ring that may have stolen the dead woman's dog and her friend's.
I liked it! Enough that I entered into a timewarp when I meant to just glance at it. The murder mystery part was satisfying and well plotted, I enjoyed the look into Zeke's life. The characters were fleshed out and the interactions were good readin'.
The parts I didn't like so much is that Rory and Zeke fought overly much so that every morning scene was 'the rift between us from last night' to the point of overuse, and I didn't feel quite satisfied with how the dognapping case tied up.
That said, this is a pretty good mystery and I'll be buying the next in the series.